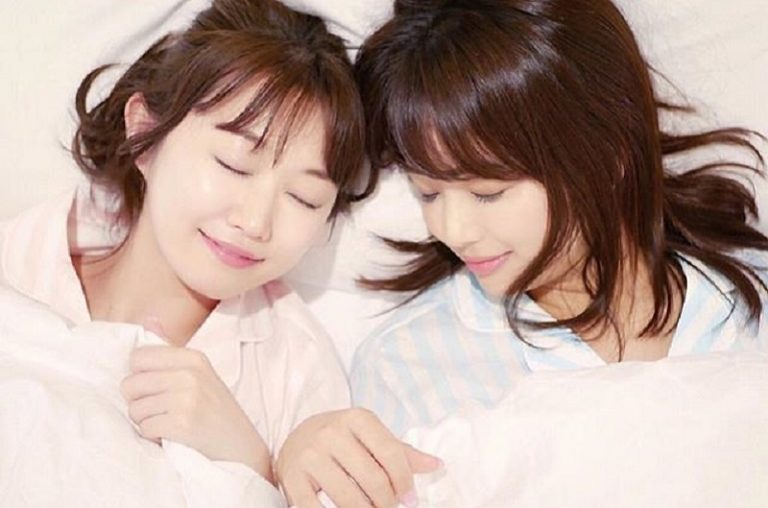 Tokyo memiliki banyak sekali hotel mewah dan berkelas yang tersebar di seluruh sudut kota, harga yang ditawarkan pun bermacam-macam. Tapi untuk para backapcker, Jepang juga terkenal memili banyak hotel kapsul-nya, sejenis hotel dengan kamar berukuran kecil yang sesuai dengan namanya, dan akomodasi ini tentunya sangat cocok bagi mereka yang tidak memerlukan layanan hotel konvensional, selain karena harga yang ditawarkan juga jauh lebih murah.
Berikut ini adalah empat hotel kapsul yang ada di sekitar Tokyo, unik dan nyaman tapi tetap ramah di kantong wisatawan.
Kangaroo Hotel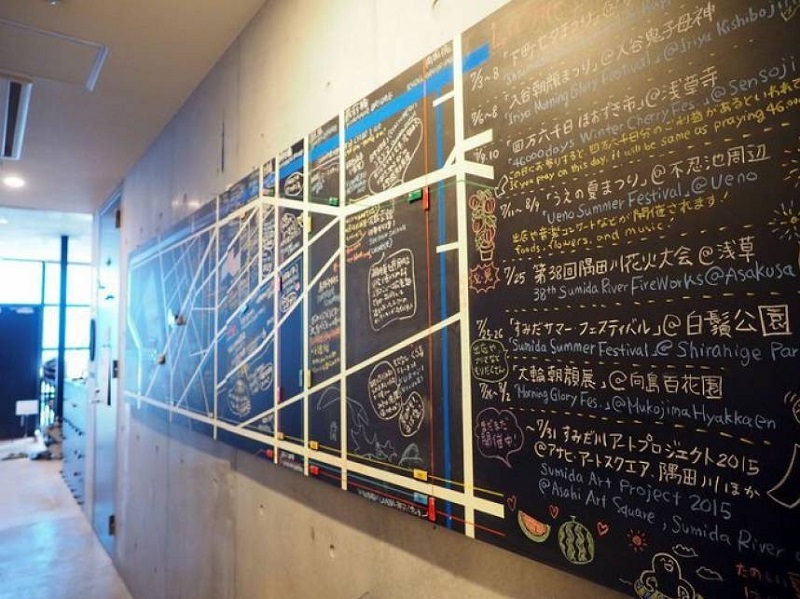 Kangaroo Hotel terletak hanya 10 menit dari stasiun Minami-Senju dengan berjalan kaki, hotel ini juga pernah memenangkan Good Design Award, pada tahun 2011. Terdapat lounge di lantai pertama yang memiliki peralatan musik seperti gitar akustik, bongo dan instrumen perkusi elektrik lainnya, yang dapat dimainkan oleh para tamu, terkadang staf yang ramah akan bernyanyi bersama. Mereka juga memiliki sebuah papan tulis besar dengan banyak informasi yang berguna bagi wisatawan dan seperti tips lokal yang tidak dapat ditemukan di tempat lain.
Selain itu, kamar-kamar di Kangaroo Hotel adalah kamar individu, tidak seperti kebanyakan kabin atau hotel kapsul. Semua kamar dilengkapi dengan AC, pengering rambut, handuk, televisi, kamar mandi dan ruang cuci juga tersedia di sini, yang membuatnya cocok untuk para backpacker. Mereka juga memiliki layanan penyewaan sepeda dengan tarif hanya 500 yen per hari, kendaraan yang berguna jika kalian ingin menjelajahi tempat-tempat terdekat seperti Ueno dan Akihabara.
Book and Bed Tokyo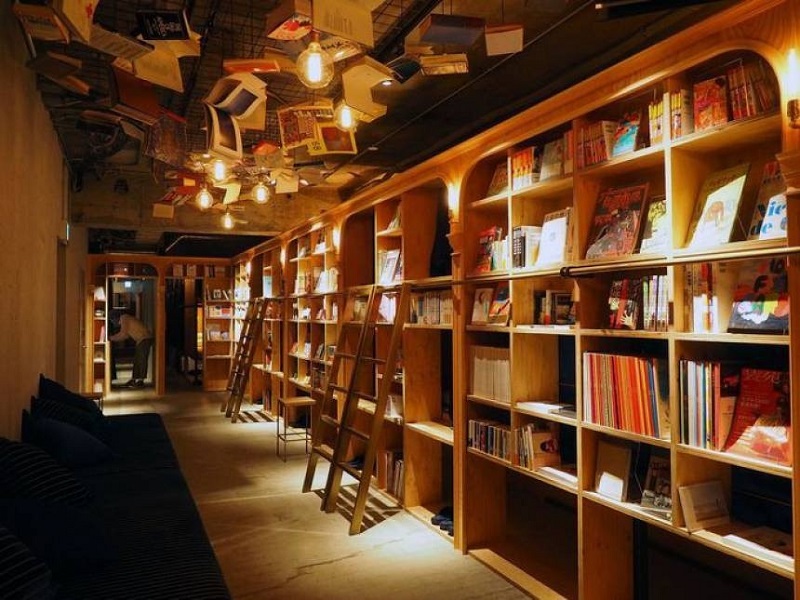 Penginapan unik dan nyaman ini merupakan mimpi indah jadi kenyataan bagi mereka para kutu buku, yang dapat menetap serta menghabiskan malam dengan semua buku yang ingin mereka baca. Book and Bed mendesain penginapan mereka dengan konsep membaca sebelum tidur, dam bisa jadi satu-satunya tempat yang memungkinkan pembaca pergi tidur dikelilingi oleh buku. Jika kalian ingin tidur di perpustakaan, maka ini adalah salah satu kesempatan untuk melakukannya, karena pengunjung juga dapat memilih tempat tidur yang ingin mereka tempati.
Centurion Hotel Residential Cabin Tower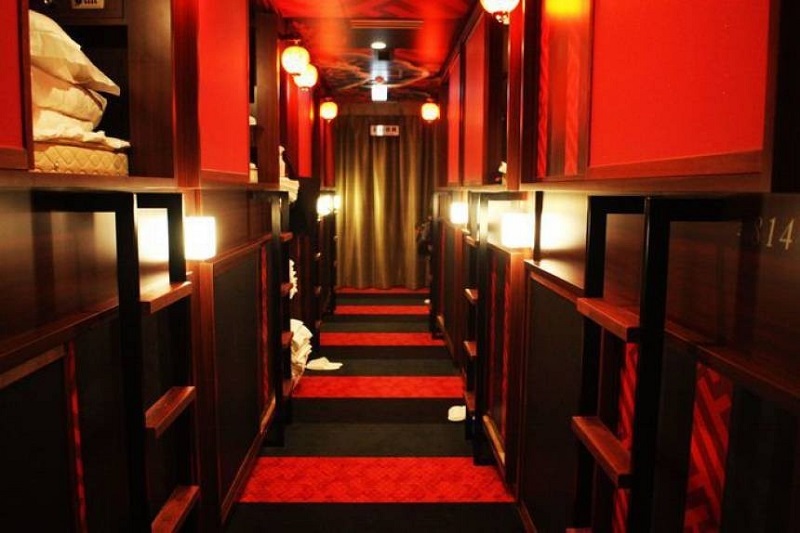 Daerah Akasaka di Tokyo terkenal dengan berbagai hotel modis dan mewah, tidak terkecuali dengan Centurion Hotel Residential Cabin Tower, yang telah dibuka sejak bulan November 2015 lalu. Kamar-kamar di dalam hotel ini dirancang dengan dominasi warna merah dan hitam, dan setiap kapsul memiliki charger, cermin, serta meja, televisi juga disediakan dan dilengkapi dengan headphone, jadi para tamu tidak perlu khawatir lagi mengganggu kenyamanan orang lain.
Meskipun semua fasilitas yang disediakan sangat lengkap, namun biaya menginap di kamar di Centurion Hotel Residential Cabin Tower sangat murah, yaitu hanya 2.500 per malam. Tamu juga hanya perlu menambah biaya sebesar 500 yen untuk sarapan, yang berisi salad dan roti.
First Cabin Akasaka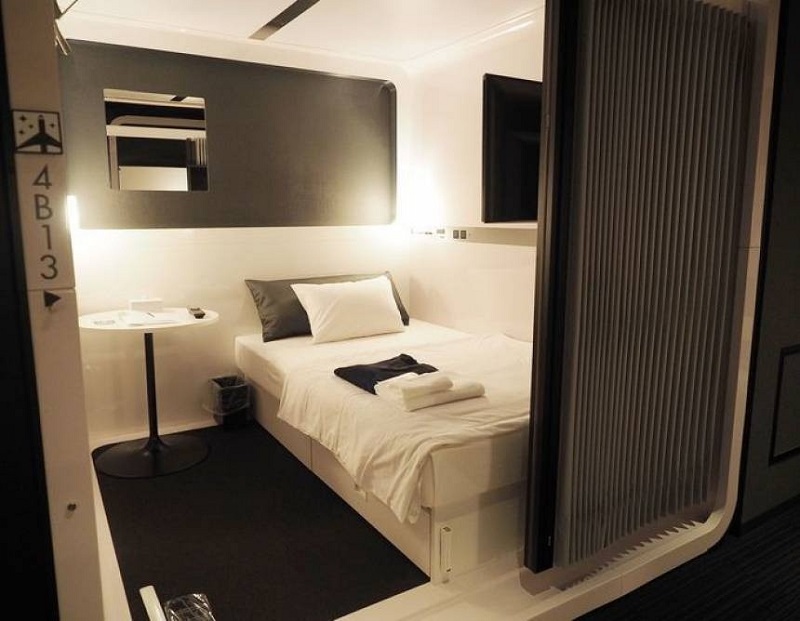 First Cabin Akasaka lebih sebagai hotel compact dibandingkan hotel kapsul, karena alih-alih tidur dalam kapsul, tamu justru diberi kabin sendiri berupa kamar pribadi, tetapi tidak sebesar yang biasanya ditemukan di hotel. Tiap kabin di First Cabin Akasaka, dihiasi oleh dinding hitam dan perabotan berwarna putihnya, serta memiliki suasana yang menenangkan.
Ada dua jenis kabin yang tersedia di sini, kabin kelas satu dan kabin kelas bisnis, namun brankas, televisi, dan fasilitas dasar lainnya telah disediakan di dalam setiap kamarnya.
(Featured Image : Cindy Urano's Twitter)
The post Berencana Pergi Ke Jepang? Ini 4 Hotel Kapsul Unik Yang Ada Di Tokyo appeared first on Japanese Station.
from WordPress https://ift.tt/2yk09pS