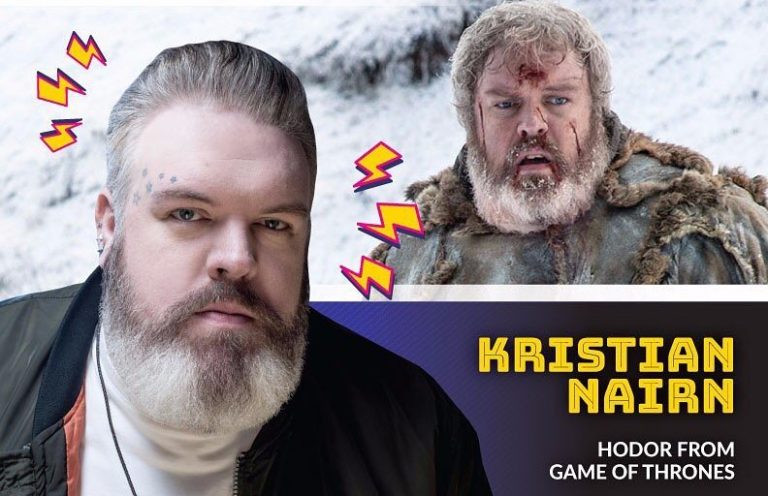 Siapkan dirimu untuk menunjukan seberapa keren kamu saat ketemu dengan idola kamu di Indonesia Comic Con 2018! ReedPop melalui Reed Panorama Exhibitions kembali hadirkan para tokoh dan ikon budaya populer dunia hanya di Indonesia Comic Con 2018, acara tahunan yang akan digelar pada tanggal 27 – 28 Oktober 2018 di Hall A & B, Jakarta Convention Center.
Indonesia Comic Con 2018 rencananya akan diramaikan dengan berbagai aktivitas budaya populer seperti sesi panel, pameran, pertunjukan live, dan Kejuaraan Cosplay. Steven Chwee, General Manager Reed Panorama Exhibitions mengatakan "kami telah mempersiapkan beragam aktivitas yang menarik dan menghadirkan para tokoh budaya populer ternama dunia untuk memanjakan seluruh fans yang ada di Indonesia dan Asia Tenggara. Selain itu deretan brand ternama juga dipastikan hadir untuk menemui fansnya seperti Disney Animation's Mickey Mouse; Marvel's Studio Avengers; Disney Interactive's Battle Lines & Pixel Quest; 20th Century Fox's Alita: Battle of the Angel; Paramount Pictures' Bumblebee Movie; dan masih banyak lagi. Kami sudah tidak sabar utnuk memberikan pengalaman yang seru dan tidak terlupakan ini".
Untuk memulai kegembiraan acara ini, Indonesia Comic Con 2018 mengumumkan sejumlah tokoh budaya populer dari Barat maupun Timur yang akan hadir selama Indonesia Comic Con 2018 berlangsung pada tanggal 27 – 28 Oktober 2018 guna menyambut para pecinta budaya populer di Indonesia yang berkunjung ke Indonesia Comic Con 2018:
Kristian Nairn (UK)
Kristian Nairn terkenal karena perannya sebagai karakter 'Hodor' yang sangat dicintai dalam serial permainan HBO, Game of Thrones, yang telah memperoleh basis penggemar internasional yang sangat luas dan aktif. Ini mendapat pengakuan luas oleh para kritikus, dan seri ini telah memenangkan banyak penghargaan dan nominasi. Selain akting, Kristian Nairn telah menjadi salah satu DJ rumah penduduk paling produktif di Irlandia.
Kristian saat ini adalah seorang DJ yang telah bermain di berbagai klub diseluruh dunia dengan memainkan genre music Big Room Vocal House dan Progresif EDM. Kristian juga menjadi Headline di "Rave of Thrones" Club show, Sebuah acara music yang membawa nuansa "Game of Thrones" dan telah menyambangi beberapa negara besar seperti Inggris, Amerika Serikat, dan Australia. Dia baru-baru ini merilis single debutnya – 'Up' feat. vokal oleh Leanne Robinson.
Adrian Pasdar (US)
Adrian Pasdar memiliki karir di berbagai film, serial televisi dan di atas panggung. Pasdar saat ini bersiap untuk Season 6 dari "Marvels Agents of S.H.I.E.L.D." di ABC sebagai Col Glenn Talbot yang luar biasa lucu yang pada akhir musim lalu berubah menjadi karakter Marvel GRAVITON. Selain itu, Adrian juga berperan sebagai Morgan Edge di "Supergirl" yang diputar The CW's. Adrian juga dikenal melalui aktingnya di serial NBC terkenal "Heroes" selama 4 musim dengan memerankan The Flying Senator Nathan Petrelli.
Pengisi Suara merupakan salah satu bakat penting dari Adrian, dia mengisi suara "Iron Man" pada 4 serial animasi, terutama "Avengers Assemble" selama 3 tahun dan masih muncul pada seri Disney XD's Milo Murphy Law. Adrian juga turut andil dalam produksi musik "Atlanta" di Geffen Playhouse. Pasdar juga menulis karya musikal dan berhasil memenangkan penghargaan Grammy, sebagai komposer Marcus Hummon. Selain menulis musik adrian juga menyutradarai film musikal tersebut. Pasdar mengarahkan film independen "CEMENT" yang dibintangi Jeffrey Wright dan almarhum Christopher Penn yang berhasil memenangkan Hadiah Grand Jury untuk Film Fitur Terbaik di Houston Worldfest pada tahun 2000.
Leon Chiro (IT)
Leon Chiro adalah cosplayer profesional dari Italia. Dia telah bekerja sebagai Cosplayer Resmi untuk Perusahaan Videogame besar seperti Ubisoft ( Assassin's Creed Watch Dogs ), Square Enix ( Gladiolus – Final Fantasy XV ), Capcom ( honorary mention for his Dante) dan banyak lagi. Ia juga dikenal sebagai salah satu tokoh paling ikonik dalam komunitas Assassin's Creed, karena ia bekerja untuk perusahaan ini sejak bertahun-tahun dan sejak 2016 ia secara resmi diakui sebagai Assassin's Creed berwajah Italia
King TW (TW)
King adalah seorang cosplayer dari Taiwan dengan pengalaman lebih dari 18 tahun. Telah memenangkan berbagai kompetisi dan diundang ke lebih dari 200 acara di seluruh dunia sebagai tamu internasional. Menjadi juri lebih dari 100 kompetisi cosplay internasional dan telah diundang ke banyak acara TV di seluruh Taiwan, China, termasuk di wawancara untuk fitur majalah di seluruh dunia. King juga menjadi duta besar untuk beberapa perusahaan game di Taiwan, Cina.
Chihiro Chang (TW)
Chihiro adalah cosplayer dari Taiwan,China. Dia telah diundanga sebagai bintang tamu di berbagai negara dan sering muncul banyak muncul di CWT & FF, Taiwan. Ini bukan pertama kalinya dia mengunjungi Indonesia dan benar-benar menantikan untuk melihat semua orang lagi pada bulan Oktober ini
Alan Quah (MY)
Alan Quah adalah seorang seniman dari Malaysia. Dia telah bekerja untuk DC Comics 'The Vampire Diaries dan Legendary Comics' Godzilla: Awakening. Ia mendirikan Komikaki Studio, sebuah perusahaan seni dan pewarnaan komik yang telah menghasilkan beberapa proyek untuk DC, MTVN, Sapi Top, Capstone, Heroverse, DDP, Webtoon, IDW, Xenescope, Gambar, Valiant dan Titan Comics.
Dexter Soy (PH)
Dexter Soy awalnya adalah seorang mahasiswa arsitektur di Pangasinan, Filipina. Dia direkrut oleh marvel sebagai penulis Trese –sebuah komik lokal Filipina – memposting karya seninya di Twitter. Selain dari karyanya dengan Marvel, ia juga telah membuat beberapa judul utama dari DC Comics seperti Batman, Mortal Combat, Red Hood dan Outlaws.
Harvey Tolibao (PH)
Harvey Montecillo Tolibao adalah seorang seniman buku komik Filipina. Cover Artis di Zenescope Entertainment, seorang seniman buku komik di IDW Publishing dan artis di Nautilus Comics. Karya-karyanya berkisar dari Hit List, Green Lantern, Arrow to Star Wars. .
Cryssy Cheung (US)
Cryssy Cheung adalah seorang art director yang menetap di New york dan telah memenangi penghargaan sebagai desainer dan ilustrator. Sejak awal Cryssy telah menyadari bakat dan passionnya di dunia digital art saat pertama kali masuk ke sekolah visual art di NYC. Cryssy telah terlibat dalam beragam ilustrasi cover komik , editorial Star Wars.
Beberapa klien dari cryssy meliputi :
#Adobe, #CBS, #Marvel, #Valiant, #IDW Publishing, #EasyJet, #Eater, #Moleskine, and Vertigo.
Iwan Nazif (ID)
Iwan Nazif awal karirnya dimulai saat menjadi mahasiswa jurusan Arsitektur di Institut Teknologi Nasional Bandung. Dia mendapatkan kontrak internasionalnya sebagai komikus dari Dark Horse Comics untuk seri komik KULT. Dilanjutkan dengan Mass Effect 2 dan 3, yang juga diterbitkan oleh Dark Horse Comics. Dia akhirnya menerima kontrak untuk mengilustrasikan seri komik Dreamworks How To Train Your Dragon yang diterbitkan oleh Titan Comics, dimana seri komiknya telah mencapai volume 8 hingga saat ini. Sekarang, ia bekerja sebagai manajer umum kreatif di perusahaan Bumi Langit
Ario Anindito (ID)
Pria kelahiran 1984 ini memulai karirnya dengan merilis komik pertamanya "Nadya and the Painkillers" melalui penerbit independen di tahun 2008. Dia mulai menjadi seniman konsep untuk film Drupadi (Sinemart, Dian Sastrowardoyo) di tahun berikutnya. Setelahnya di tahun 2010, ia menjadi freelance art director untuk DRAFT FCB Indonesia dimana ia menyutradarai beberapa iklan televisi dimana salah satunya bahkan berhasil meraih Gold Award pada Citra Pariwara tahun 2011 dengan kategori animasi. Kini ia memulai studio kecilnya "Stonefruit Studio" dan masih mengerjakan karya untuk Marvell sebagai penciller dan inker. Karyanya termasuk, Wolverines, Secret Wars: House of M, Hyperion, Agents of S.H.I.E.L.D., Venom: Space Knight, Uncanny Inhumans, dan Secret Empire: United.
Yasmine Putri (ID)
Yasmine Putri adalah seorang perancang karakter Indonesia yang debut komiknya dimulai dengan cover untuk Marvel's Secret Wars. beberapa karyanya adalah karakter komik untuk DC dan Marvel, diantaranya Amazing Spider-Man, Black Panther, Hellblazer, Detective Comics, Nightwing, and Wonder Woman. Dia suka jalan – jalan dan pantai
Arif Prianto (ID)
Karya pertamanya sebagai seorang colorist adalah pada tahun 2003 untuk sebuah buku komik lokal berjudul Duawarna dari M & C Gramedia. Pada tahun 2007 ia bergabung dengan Imaginary Friends Studio Jakarta (dan kemudian Stellar Labs) hingga 2017. Sejak itu ia telah mengerjakan berbagai judul dari TopCow: Witchblade, The Darkness, DC: Komik Aksi, Deathstroke, Immortal Men, DC Unchained Game, Marvel: Starwars Poe Dameron, X-Men Gold, dan Roodhaar untuk Eppo. Dia saat ini menjalani kehidupan sebagai freelancer, gamer sesekali, dan pemain ping-pong mingguan.
Jasmine Hanny Sukartty (ID)
Artis kelahiran Jakarta, Jasmine Hanny Surkatty telah berkecimpung di berbagai bidang industri kreatif Indonesia selama tahun-tahun sejak masih kuliah, sebelum memutuskan menjadi sebuah bidang untuk dikerjakan. Ketika semua berjalan, ia menyadari bahwa kecintaannya pada komik tidak pernah mati, terutama setelah ia terpikat pada proyek sisi gairahnya mengubah IP besar, Komik Ga Jelas

, sebuah komik berbasis sosial-media
Taku Inoue (JP)
Taku Inoue adalah seorang komposer, arranger, penulis lagu, DJ berasal dari Jepang. Dia adalah desainer dan komposer dari permainan suara milik BANDAI NAMCO STUDIO, sebagai seorang komposer, komposisi musik seperti "Tekken Series", "Ridge Racer Series", "Idol Master Series" dan suara "Masumi No Vitera" [1] dan "Syncronica"
Dia bertindak sebagai direktur. Dalam komposisi dan aransemen dia sering menggunakan nama Taku Inoue, namun dalam penulisan lirik MC nama yang sering digunakan adalah TC. Pada akhir Juni 2018, ia pensiun dari Namco Bandai dan beralih ke Freelancer. Selain produksi suara game, kami juga melakukan berbagai kegiatan seperti menyediakan remix untuk UNICORN dengan nama "applebonker" dan Nami Tamaki dll., Menawarkan musik kepada DAOKO, DJ di acara klub dan pertunjukan langsung.
The post Indonesia Comic Con 2018: Akan Ada "Hodor" Game of Thrones dan Figur Pop Dunia appeared first on Japanese Station.
from WordPress https://ift.tt/2Jbc7Xh