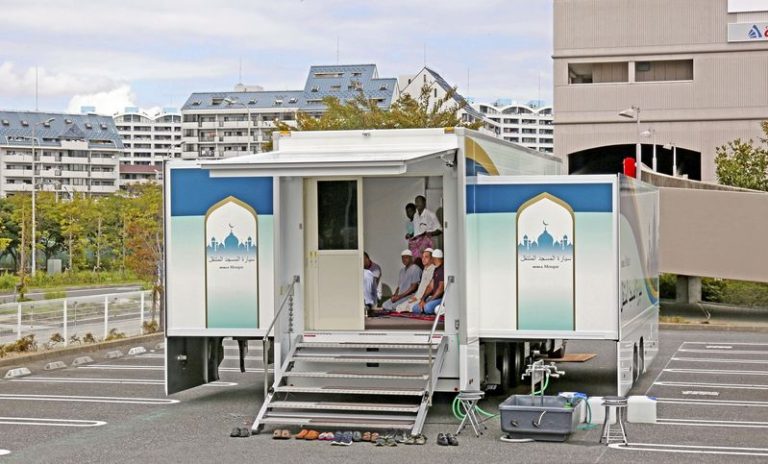 Sebuah masjid mobile diresmikan di Urayasu, Perfektur Chiba pada akhir September tahun ini. Masjid portable ini juga merupakan bagian dari persiapan Olimpiade Tokyo 2020 dan Paralimpiade Tokyo serta berbagai acara internasional lain yang akan diadakan di Jepang beberapa tahun ke depan. Keberadaan masjid ini diharapkan akan mempermudah turis muslim di Jepang untuk aktivitas ibadah sehari-hari.
Masjid yang berada di atas truk dengan ukuran 12 x 2.5 meter ini, akan melakukan mobilitas ke beberapa titik di Jepang. Dengan ukuran seluas 48 meter persegi, masjid portable ini akan mampu menampung lebih dari 50 orang sekaligus dalam salat berjamaah.
Selain dilengkapi dengan ruang ibadah yang nyaman, masjid ini juga dilengkapi dengan pendingin ruangan, tangki air yang akan mempermudah para pengunjung muslim di Jepang untuk berwudhu sebelum melakukan ibadah mereka.
Menurut Yashuhare Inoue, head of the Tokyo-based committee, keberadaan masjid portable di Tokyo, Jepang ini bertujuan untuk menunjukan keramahan Jepang bagi umat Islam. Proyek masjid portable ini menganggarkan biaya sebesar ¥ 100 juta.
"Infrastruktur sedang diperbaiki untuk mengakomodasi pengunjung ke Jepang dari berbagai kebangsaan, budaya, dan agama. Namun, negara ini kekurangan tempat ibadah untuk Islam – salah satu dari tiga agama utama di dunia, "kata Yasuharu Inoue, seperti yang dilansir Japanesestation di the-japan-news.com.
"Saya seorang Buddhis, tetapi saya ingin menciptakan lingkungan di mana semua orang dapat mengucapkan doa mereka dengan tenang." Terang Inoue.
Inoue mengatakan untuk ke depannya, masjid portable ini akan disewakan kepada berbagai penyelenggara acara yang tidak memiliki ruangan cukup untuk beribadah bagi umat islam, seperti tempat kebugaran, stadion olah raga, dan berbagai objek wisata.
Keberadaan masjid portable di Jepang ini pun disambut dengan respon positif oleh umat muslim yang ada di Jepang.
"Ada sangat sedikit tempat untuk beribadah bagi umat Islam ketika saya datang ke Jepang 30 tahun yang lalu," kata Sandha Saleem, seorang pengunjung masjid yang berasal dari Pakistan dan saat ini tinggal di Adachi Ward, Tokyo.
Saleem menambahkan bahwa jumlah tempat salat di Jepang telah meningkat secara bertahap. Dengan adanya masjid portable ini, dia berharap para pengunjung, termasuk turis muslim di Jepang akan merasa berada di rumah sendiri.
The post Masjid Portable Diresmikan Untuk Muslim Di Jepang appeared first on Japanese Station.
from WordPress https://ift.tt/2OOOJnM