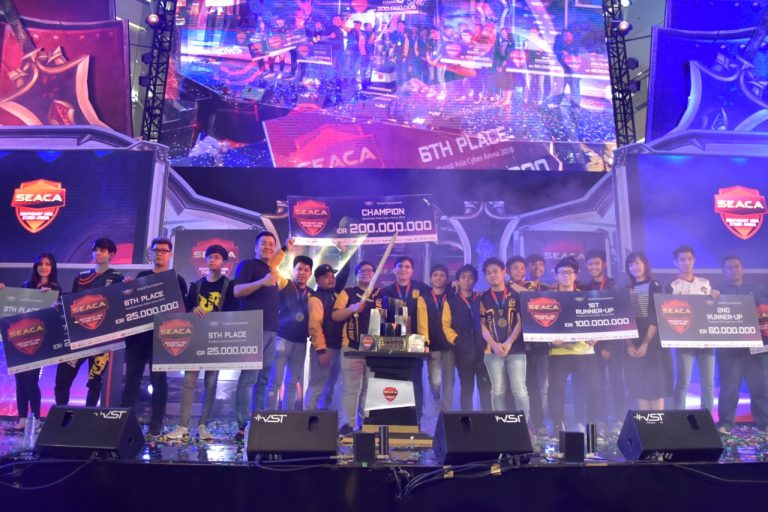 Southeast Asia Cyber Arena (SEACA) Resmi Berakhir hari ini. Ajang penutupan turnamen eSports terbesar di Asia Tenggara ini yang digelar oleh UniPin eSports dari tanggal 17 hingga 21 Oktober di Mall Taman Anggrek Jakarta Barat ini, berhasil menarik atensi cukup besar dari penggiat eSports di Jakarta dan sekitarnya. Tidak kurang ribuan remaja hingga dewasa, bahkan orangtua menemani putra-putrinya turut serta menyaksikan perhelatan yang digelar secara penuh dari pagi hingga malam selama lima hari berturut-turut ini.
Kurang lebih 230 atlet eSports, baik dari dalam maupun luar negeri ini bertarung memperebutkan hadiah senilai 1.4 Miliar Rupiah. SEACA sendiri mempertandingkan game – game populer antara lain; Mobile Legends, Arena of Valor (AOV), PlayerUnknown's Battleground (PUBG), Point Blank dan DOTA 2. Beberapa atlet eSports dari kawasan ASEAN seperti Malaysia, Phililpines, Thailand dan Vietnam juga turut berpartisipasi dalam event ini.
Besarnya perhatian penggiat eSports dalam turnamen ini sesuai dengan analisa lembaga riset asal Belanda Newzoo, yang menyebutkan Indonesia termasuk salah satu diantara 6 negara(Thailand, Vietnam, Singapura, Malaysia dan Vietnam) besar yang memiliki lebih dari 98% penggiat eSports di kawasan ini. Asia Tenggara sendiri merupakan kawasan yang memiliki pertumbuhan eSports lebih cepat dibandingkan kawasan lainnya di dunia.
CEO sekaligus Co-Founder UniPin Ashadi Ang, menyebutkan bahwa pesatnya pertumbuhan eSports di Asia Tenggara ini menjadi alasan untuk menjadikan Indonesia sebagai pusat industry eSports di kawasan ini.
"Melalui SEACA kami ingin menjadikan Indonesia sebagai penghubung sekaligus pusat eSports di kawasan SEA (Southeast Asia). UniPin melalui UniPin eSports memiliki misi ingin mempromosikan serta mengedukasi eSports sebagai gaya hidup sehat. SEACA adalah salah bentuk edukasi yang kami lakukan. Kami ingin para gamers memiliki gaya hidup sehat dan disiplin, memiliki jam istirahat yang lebih teratur. Bahkan, kami fasilitasi mereka untuk berkompetisi secara professional melalui SEACA dan kami juga berikan hadiah."
"Kami sadar kami tidak akan mampu berjalan sendirian untuk mewujudkan impian kami menjadikan industry eSports Indonesia terbesar di Asia Tenggara. Oleh karena itu, kami menggandeng banyak pihak dari sponsor hingga partner kami untuk mewujudkan hal ini, dankami berterima kasih pada pihak-pihak yang telah mendukung SEACA. Kami menyadari masih banyak yang harus dibenahi, dan ini jadi pekerjaan rumah yang harus kami bereskan. Harapan kami dukungan pemerintah lebih besar lagi kedepannya agar eSports lebih berkembang di tanah air. Kami ingin SEACA bisa menjadi event tahunan dan menjangkau wilayah yang lebih luas, sehingga dapat menghasilkan atlet-atlet eSports berkualitas dunia dari seluruh penjuru tanah air. Bangga dong kalau atlet terbaik di SEACA bisa ikut Asian Games dan dapat medali emas," tambah Ashadi.
Di acara SEACA ini, turut menghadirkan kompetisi World Electronic Sports Games (WESG) dengan total hadiah sebesar USD 5.500.000, dimana pemenangnya akan dikirim untuk bertanding mewakili Indonesia di kancah Internasional yang grand final-nya akan diselenggarakan di China.
Kompetisi Cosplay serta penampilan group music RAN juga turut meramaikan acara penutupan SEACA. Acara ini terbuka untuk umum dan tidak dipungut biaya. UniPin Voucher Game Online dan UniPin eSports mengucapkan terima kasih kepada rekan-rekan media yang meliput acara ini serta para sponsor diantaranya adalah Indomaret, Nimo TV, AMD, Logitech G, Wings Group, Sakuku, Western Digital, DX Racer, LG, Bali Fiber, dan Honor yang telah mendukung acara SEACA 2018.
The post Southeast Asia Cyber Arena (SEACA) Resmi Berakhir, Indonesia Jadi Pusat Esport Asia Tenggara appeared first on Japanese Station.
from WordPress https://ift.tt/2An6a6E